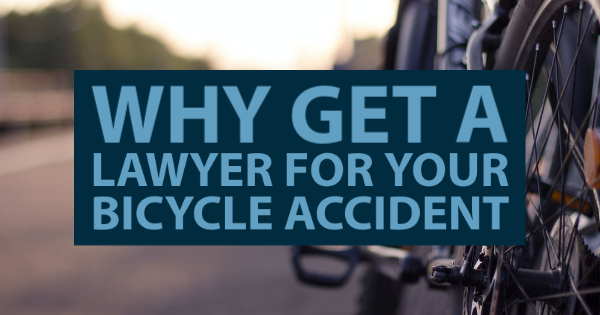 Why Hire a Lawyer for Your Bicycle Accident
---
When you get into a bicycle accident, you may have many reasons to hire an attorney. An attorney can help an individual when they have a personal injury case, which may be pertinent to anyone who is involved in a bicycle accident.
Whether your bicycle accident was a major ordeal or you have no idea how injured you actually are, you may need to hire someone who can give you the proper legal advice as you move forward. While most personal injury cases are settled outside of the courtroom, that doesn't mean you should go without representation.
When you have a bicycle accident, hiring a personal injury lawyer to help you with a claim or even to pursue a personal injury settlement may be your best bet. Here's why.
You Might Have More Severe Injuries than You Originally Thought
Imagine having a bicycle accident — only instead of just repairing a broken arm and having your bicycle replaced, you were faced with other injuries as well. What if you had to have continued physical therapy or you are unable to work after your accident? No doubt, your medical needs and costs are going to add up. In order to have a chance at a normal life following your accident, you have to hire the right injury attorneys to assist you.
The Other Party Might Have a Lawyer
If the other person involved in your bicycle accident has retained a lawyer, then you should hire one, as well. When you have a personal injury, you deserve the right personal injury law firm on your side to represent you and help you understand your case. Your lawyer can ensure your rights are protected, which is a must if the other party involved has retained legal counsel.
Injury lawyers are there to help you understand your case and fight for your rights. When you have a major accident, you'll want to do everything possible to ensure a positive outcome. Whether you need a lawyer to help you understand who is responsible for personal injury solutions in your case or you just want to make sure you are doing all you can regarding your bicycle accident, the right attorney will be there by your side in many ways.