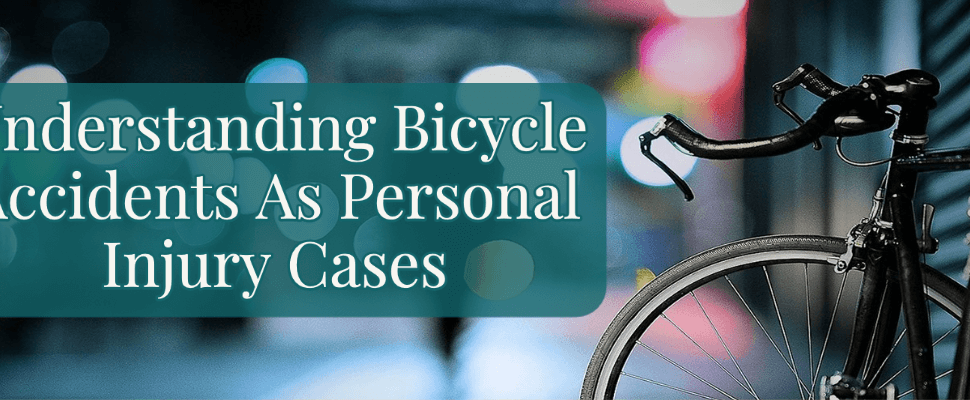 Understanding Bicycle Accidents as Personal Injury Cases
---
We often take for granted that we can ride a bicycle safely through the streets as long as we're following the rules. Though there is obviously a lot less physical protection for bicyclists than there is for motorists, bicyclists who understand their rights and how to bike legally alongside cars usually don't run into any trouble. But every now and then, bicycle accidents do occur on the road. The question for many, as they're recovering, is who is responsible for the accident.
Although the main priority after bicycle accidents is ensuring that everyone involved is physically safe, in the aftermath there are a lot of issues that need to be resolved. You could very well have been following the rules and now, due to another person's negligence, are faced with mounting hospital bills and potentially lifelong medical problems. This is why you should get in touch with personal injury lawyers to see what your options are in this specific situation. Let's explore the basics below.
Who Is Usually at Fault in Bicycle Accidents?
Every traffic accident involving bicyclists is individual. There are specific circumstances that need to be considered for each one, and a good personal injury attorney will carefully go over those circumstances before moving forward with your case. Although some bicyclists are under the impression that they are much like pedestrians and therefore automatically have the right of way, this is not the case. Bicyclists can be responsible for traffic accidents just as automobile drivers can be.
Generally speaking, bicyclists must follow the same rules of the road as automobile drivers. They must obey traffic signs, yield to pedestrians, and signal before making lane changes just as drivers must, and they should practice an abundance of caution when they do so. Bicycle accidents that occur because the bicyclist wasn't following the law would be the bicyclist's fault, and they could potentially be held legally responsible and liable for injuries and losses sustained by others involved in the accident. However, there are also incidents in which more than one person can be at fault, in which case they would share the blame.
When Are Automobile Drivers Responsible for Bicycle Accidents?
Generally speaking, drivers are responsible for bicycle accidents in the same sense that they would be responsible for accidents involving other cars. If drivers do not obey the laws, they will likely be held responsible for an accident. However, it is expected that drivers will practice more caution when driving alongside bicyclists, due to the fact that bicyclists are in more vulnerable positions when they're on the road. For example, when a driver is turning near a bicyclist, they must be slower and more careful. As bicyclists usually stay on the right side of the road, it's easy for drivers to hit them if they take sharp turns.
If a driver is attempting to pass a bicyclist too quickly or doesn't give them the proper space on the road, they could be responsible for an accident. Some drivers also drive within empty bike lanes, which they never should; and upon coming across an unexpected bicyclist, they could cause an accident.
What Should I Do if I'm Involved in A Bicycle Accident with A Car?
If you're involved in a collision with a car on your bicycle, you have options. If you're physically able to do so on the scene, take photos. Make sure that you have an image of the car's license plate. If the police are called to the scene, they will likely take photos of the damage and any injuries sustained.
After these procedures are called, get in touch with a personal injury attorney. Provided that you were not at fault in the accident, you could be compensated through the coverage of your medical bills, as well as compensation for time lost at work and emotional distress among other things. A personal injury lawsuit doesn't automatically equal a long trial; in fact, 95% to 96% of all personal injury lawsuits are settled in the pretrial phase.
But you do need to think long and hard before committing to a personal injury attorney. Make sure that you work with someone who is fully equipped and well-versed in bicycle accident law and is ready to fight for you.