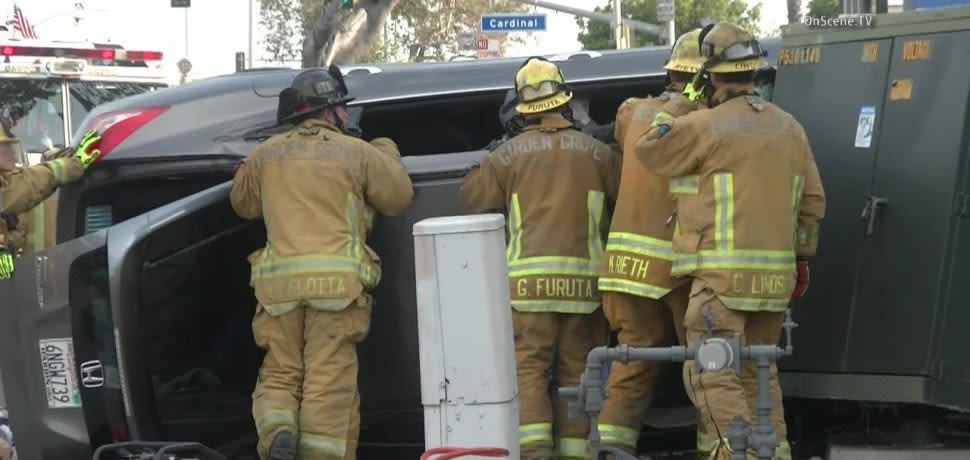 Two Critically Injured in Rollover Collision
---
GARDEN GROVE, CALIFORNIA (June 16, 2017) – Two women were critically injured after a rollover collision in Garden Grove on Thursday, according to the Garden Grove Fire Department. The accident occurred at about 5:50 PM on Thursday, June 15, at the intersection of Brookhurst Street and Central Avenue.
The women had to be extricated from their vehicles with help from the Garden Grove Fire Department. The two women were inside the vehicle, which had flipped onto its roof and onto the sidewalk. They were rushed to the hospital by paramedics.
Another vehicle was involved, and was driven by a man. He was also rushed to the hospital along with the other two women. While authorities are still investigating the incident, they don't know yet how the vehicle might have rolled over before landing on its roof on the sidewalk. It is not known yet whether drugs or alcohol were involved in the incident.
If you or someone you know has been involved in a car accident, the first thing you should do is seek immediate medical attention. You may have sustained injuries that are not obviously apparent, and will need professional assessment to determine the extent of your pain and suffering.
Next, you should seek legal counsel to protect your rights. Talking to a personal injury lawyer will help you understand your legal case, and may be your best decision in getting the compensation you may be entitled to as a result of the accident. You could be eligible for a settlement that would pay for medical expenses, property damages, and other bills accrued as a result of the car crash. Talk to a personal injury lawyer today to learn more about how they can help you recover from your accident. Call the Law Offices of Steven Zwick now for your No Risk Free Consultation! (949)446-1376