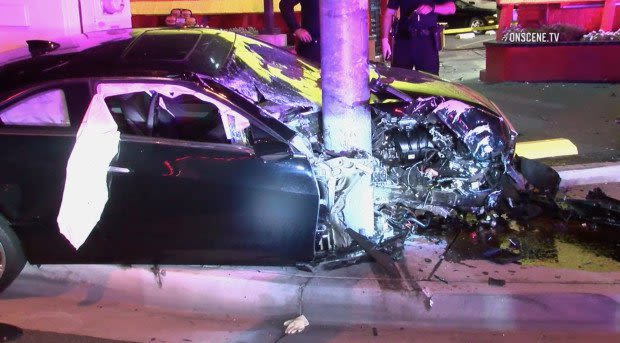 Teenage Driver Dead After Car Crash in Garden Grove
---
Fernandez was driving a Toyota SUV northbound on West Street when he hit a light pole near Chapman Avenue. The vehicle flipped over and onto its roof. Firefighters from the Garden Grove Fire Department rushed to the scene and had to extract Fernandez from the vehicle where he was trapped. He was then taken to the UC Medical Center, and was later pronounced dead.
No other information has been released regarding the details of the crash nor why it happened. However, a passenger was inside the vehicle along with Fernandez. He was ejected from the Toyota at the scene and was taken to the UCI Medical Center. Later, the hospital listed his condition as stable, and he is expected to survive, though he sustained major injuries.
No other vehicles were involved in the crash, and authorities are still investigating the situation. The Garden Grove Police Department is requesting information if any witnesses were at the scene.
Our condolences go out to the family of those involved in the crash. Please know that you have our deepest sympathies, and that we are able to answer any legal questions you may have about wrongful death and car accident situations.
If you or your family has been involved in a car crash and sustained injuries as a result, it is always in your best interest to speak to a car accident attorney who can help you understand the legalities of your case. The personal injury lawyers at the Law Offices of Steven Zwick and Associates have helped many clients in similar situations understand their rights and benefits. We can do the same for you if you call us today for a free consultation.