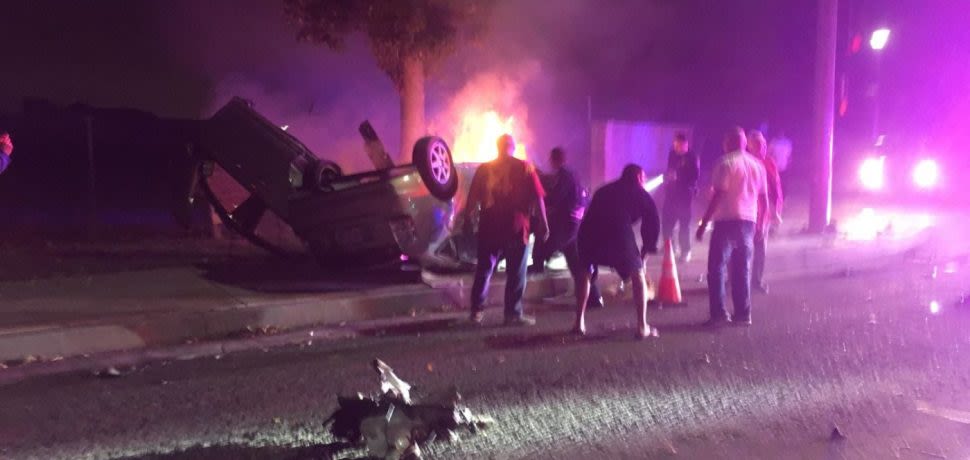 Police Pulls Man from Fiery Car Crash
---
The driver had been traveling on Lambert Road going east when he lost control of the vehicle. It veered off the road and struck a tree before it overturned. Fortunately no other vehicles were involved in the crash.
The car caught on fire before the driver was able to exit the vehicle. Authorities rushed to the scene, and an officer dashed to the vehicle and grabbed the driver's arms, pulling him from the overturned car. Firefighters then doused the car with water and eventually put out the fire.
The driver is a 66-year-old resident of Yorba Linda. He suffered moderate injuries, particularly from burns resulting from the fire. While authorities are still investigating the incident, no alcohol or drugs seem to play a role in the cause of the accident. There is some speculation that the driver fell asleep behind the wheel, which caused him to veer off the road.
No other passengers or drivers were involved in the accident, but five officers did suffer minor injuries from cuts and burns while they pulled the man to safety.
If you or someone you love has suffered injuries after being involved in a car crash, talking to a personal injury lawyer is the best way to protect your rights and receive the benefits you deserve. The car accident attorneys at the Law Offices of Steven Zwick and Associates are currently offering free consultations to help you understand the legalities of your situation. Find out how we can help you today.