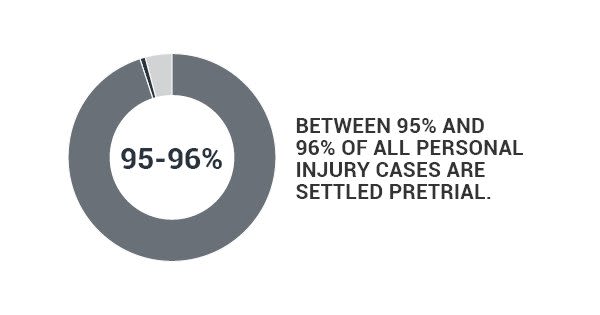 How to Choose a Law Firm? 3 Questions to Ask
---
Car accidents happen much too often across the United States. Car accident victims go though both physical and mental stress after severe crashes, but they often require professional assistance to ensure that they are getting the damages they deserve. Unfortunately, insurance companies don't always offer fair settlements to accident victims, and that's when many people choose to hire a personal injury attorney.
Although between 95% and 96% of all personal injury cases are settled pretrial, it's still important to seek professional legal advice. The cases that go to trial can be extremely complicated and stressful, so it's best to work with experienced personal injury attorney for the journey ahead.
Knowing how to choose a law firm that can provide you with legal assistance, however, is the tricky part. You can't just ask any lawyer to represent you because these cases can take time. That's why you need to do some thorough research before you settle on a law firm to represent you. Here is a brief guide that should help you learn how to choose a law firm for legal representation:
Ask Attorneys About Their Educational Backgrounds
Though you don't need to work with a law firm that's full of attorneys from Yale, Columbia, and Harvard, you want to at least make sure that everyone in the legal office is properly educated. Most attorneys are proud of their law school, and if the information isn't listed directly on their website, they should be happy to share it with you in person.
Ask About Case Experience
Since every personal injury case is different, it's important to work with a law firm that has attorneys who can cover all kinds of claims. You want to have a legal representative who has experience in at least five or six personal injury cases so you aren't going into a potential court case unprepared. In addition, ask the law firm about recent settlements they have secured for their clients.
Ask About Compensation
Usually, you have to pay an arm and a leg for quality legal representation, but you won't have to fork over your entire life's savings for a personal injury case. In fact, as long as you're working with a credible law firm, you won't have to pay anything upfront at all. Personal injury attorneys don't normally collect fees from their clients like a traditional lawyer. Rather, they work on a contingency basis, meaning that they collect a portion of the fee you receive when your case concludes. Don't be afraid to ask your potential law firm about compensation; they should be happy to tell you how their process works.
If you're still unsure of how to choose a law firm, you only have two options: ask friends and family for personal referrals or start scheduling consultations with injury law firms near you.