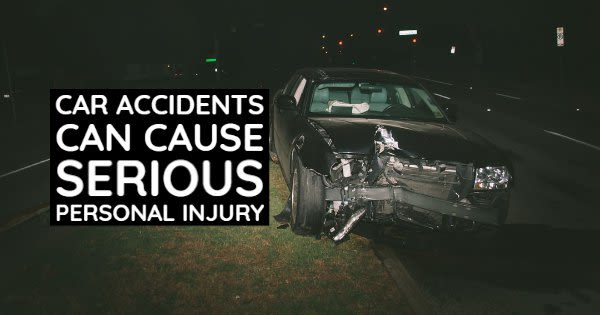 Car Accidents Can Cause Serious Personal Injury
---
Car accidents are incredibly jarring experiences. It's frightening, even if you're stopped or parked when car accidents occur. Even if you're not hurt in a car accident, your vehicle may be damaged or your emotions may be overwhelming.
You don't have to be hurt as a car accident victim to suffer symptoms of post-traumatic stress disorder or fears that make it difficult or even impossible to get out of the road and get into a vehicle again. But no one has to deal with car accidents alone. Getting an attorney immediately after you've been involved in an accident is absolutely the best thing you can do for a number of reasons.
Why You Need a Lawyer to Help You Deal with Car Accidents
If you ask yourself "do I need a lawyer," the answer is almost always going to be yet. Whether or not you've been hurt in an accident, an injury lawyer can assist you in a number of ways and help you find out the next steps you need to take. There are many lawyers who specialize in car accidents, and many different car accident law firm options available.
Do you know how to find a personal injury lawyer, or even how to choose a good attorney, in general, to help you when you've been in a car accident or another type of accident? You want to take the steps to ensure that you find an experienced attorney who will help you with your case and get matters resolved as quickly as possible.
How to Choose a Law Firm or A Lawyer Who Can Help
Car accidents account for many serious injuries and even fatalities every single year. What you may not know is that 95% to 96% of personal injury cases, including those car accident cases, are settled pretrial. That means you have very little chance of ever going to trial of your accident claim. The chances that you'll get a settlement without going to court are greatly increased when you hire the right injury lawyer to represent you.
Whether or not you think you've experienced personal injury after car accidents, personal injury lawyers can help you. A good lawyer can tell you what steps you need to take. Even if you think you haven't been injured, it's a good idea to visit a doctor.
A good injury attorney will help you get a settlement to cover the cost of this expense as well as any damages that have been caused to your car or to your emotions. Sometimes, injuries following car accidents don't even show up for a few days. You may not realize the extent of injuries after you've been involved in an accident. That's why a lawyer will recommend that you seek medical treatment whether you think you've been hurt or not.
Your lawyer can also tell you where to go to get an estimate for the damages on your car and may even help you receive the mental health treatment you may need, as so many people do following car accidents.
When you're seeing legal adjust from an injury lawyer who knows what to do in the wake of car accidents, search for a law firm that's located close to where you live. If you have to meet with your lawyer face to face, you want a lawyer who is located nearby to make it easier on yourself.
There are lots of lawyers who specialize in car accidents, so it should not be difficult to find one or more in your local area. Once you've located some lawyers, look at their websites to learn more about their professional records. Lawyers will tell you how long they've been practicing law, as well as other information, such as how many cases they've won and other relevant information that can help you make a decision.
Car accidents are incredibly serious. They can cause a lot of damage to your body, your mind, and your vehicle. Hiring a personal injury lawyer is the best way to get a settlement and get the compensation you deserve after you've been involved in a car accident, a bicycle accident, or any other type of auto injury or accident.