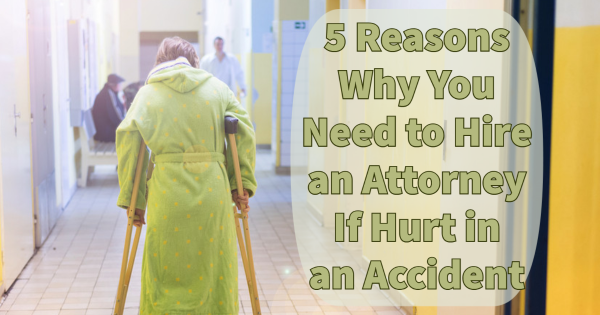 5 Reasons Why You Need to Hire an Attorney if Hurt in An Accident
---
According to the National Highway Traffic Safety Administration, there are approximately 6 million car accidents in the US every year. This is roughly 16,438 motor vehicle crashes daily. Over 3 million Americans are hurt in an accident, with 2 million of these being permanent injuries.
Injuries sustained in car accidents can seriously upend your life-from raising medical bills to lost wages or employment as well as immense physical and emotional pain. Hiring a personal injury attorney when hurt in an accident can increase your odds of fair compensation for your injuries.
Here are five reasons why you should consider hiring an injury lawyer:
1. understand your legal rights
Most people are often apprehensive about bringing on board a personal injury attorney or initiating a personal injury case against the person responsible for the accident. While no one should file frivolous lawsuits, a personal injury law firm can help you understand your rights. If the crash occurred through no fault of your own, you might need compensation to cover your medical expenses and other economic losses. The legal advice may include an explanation of the statute of limitations application in California.
2. Calculate the Correct Value for Your Compensation
Insurance companies' adjusters analyze the facts of each case before providing a recommendation for the compensation to give. If the insurance firm deems the facts of the case as weak, they may provide a low-ball offer issued as a quick settlement. Consulting with a personal injury lawyer can help you to determine the compensation you deserve accurately. Investigations by the law firm into your medical bills, treatment notes, police reports, witness statements, employment information may play a huge role in figuring out the right compensation figure to file for.
3. Negotiate Your Settlement
You may be facing a battery of lawyers experienced in negotiating settlements for their clients, the insurance company. Hiring a Southern California personal injury attorney can help you increase your odds at a fair settlement for the injuries. Legal representation can abate bad-faith tactics from the insurance company as they try to reduce the compensation value.
4. Reliable Representation in Court
Approximately 4% of personal injury cases end up before a judge or jury. The American legal system can be quite complex to navigate alone. A personal injury lawyer may help you file all the necessary court paperwork, including pre-trial motions and trial documents. Additionally, the firm can create legal theories to argue in court. The attorneys may also bring in expert witnesses and accident reconstruction experts to support your claim.
5. Receive Specialized Medical Care
If hurt in an accident, you may need to seek medical care as soon as you can. Many injuries may not be evident right away, taking several days or weeks before the symptoms appear. Personal injury attorneys can ensure that you receive the right level of specialized care to determine your maximum recovery parameters accurately. Your maximum medical improvement may have a significant impact on the calculation of your compensation.
Getting hurt in an accident can severely impact your life. Hiring a personal injury attorney can help you increase the odds of a favorable compensation outcome for your injuries. To discuss the facts of your case, contact The Law Offices of Steven Zwick.