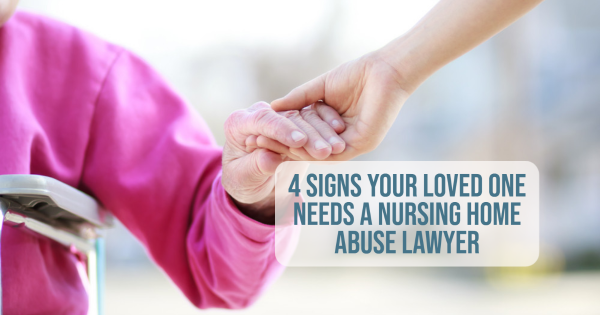 4 Signs Your Loved One Needs a Nursing Home Abuse Lawyer
---
Most people trust their nursing home will care for their loved ones and ensure their safety and well-being. Unfortunately, according to Nursing Home Abuse Guide, more than two million cases of nursing home abuse are reported every year. With nearly one in ten seniors experiencing some type of elder abuse, it's vital to seek legal advice if you notice any signs of nursing home abuse. There are several indicators that could signal your loved one is being mistreated. The top four signs are explained below.
1. Unexplained Bruises or Injuries
If your loved one has any unexplained bruises or injuries, it could be a sign of physical abuse. Nursing home staff may attempt to cover up these types of incidents by claiming that the senior fell out of bed, but this isn't always the case. Ask questions and seek medical help if you suspect physical abuse. In addition, ask for outside legal advice instead of depending on your nursing home's staff to report the incident.
2. Sudden Change in Weight
A sudden change in weight can be an indication of malnourishment or dehydration, which can often result from nursing home abuse or neglect. Poor nutrition can prevent seniors from healing properly and cause other health problems, so it's important to pay attention to changes in their weight.
3. Mood Changes
Any changes in your loved one's mood or behavior could be a sign of nursing home abuse. If their attitude, habits, or daily routines suddenly change, it may indicate that something is wrong. Pay close attention to any signs of depression, anxiety, or fear as these can often accompany abuse and neglect in nursing home settings. If your loved one won't share what happened, consider bringing in a nursing home abuse lawyer to investigate the situation.
4. Poor Hygiene
When seniors are not given proper care, their hygiene may suffer as well. If your loved one's teeth aren't being brushed regularly or if they appear to be wearing the same clothing multiple days in a row, this could be a sign of neglect. Pay attention to any changes in their hygiene or grooming habits and take action if necessary.
If you suspect nursing home abuse, it's important to seek legal advice right away. Contact us today at The Law Offices of Steven Zwick to work with an experienced nursing home abuse lawyer who can provide the guidance and support needed to ensure your loved one's safety and well-being.